The time for a full spring clean of your home is drawing near. As demanding as the task may seem it is necessary. A full deep clean of your home will eliminate bacteria and refresh your home for the new season.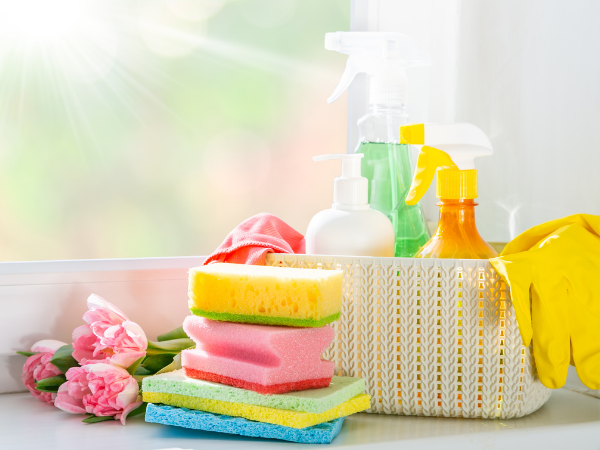 A full spring clean is an integral part of maintaining your home. Keeping your house or apartment clean is part of our weekly schedule, however, a full spring cleaning is a task we usually reserve for a single occasion throughout the year. Understandably so, fully cleaning your home takes time, effort and strategic planning. To fully refresh your home may take you a few days, a lot of helping hands and a specific spring cleaning checklist. The effective cleaning solutions you have are two, you can reach out to a professional cleaning company and schedule a deep cleaning service. A professional team of cleaners will accomplish what may take you several days in a few hours. If you go with a professional cleaning most companies will also provide cleaning supplies as part of their deep cleaning service. Alternatively, you can go with the do it yourself approach. If you chose the second option prep yourself with a lot of patience and a few eager helping hands. We will list a few useful tips you can make use of when the time to fully clean your property comes along with a few cleaning secretes professional cleaners use to clean your home quicker and easier.

1. Clean in a specific order.
Do not try and clean two rooms at the same time, this will just waste energy and actually will take you more time. When you start cleaning a single room and focus your attention only on that room you save time and effort, two things you will need on the spring cleaning day.


2.Clean the wardrobe.



Cleaning your wardrobes does not only include rearranging your clothes and getting rid of the clothes you no longer need. You need to take every item out of your wardrobes and deeply clean all surfaces from the inside and the outside. Pay special attention to the corners and edges of your wardrobe, those can harbour a lot of different bacteria and other harmful pathogens.
3.Clean your curtains.


You may think that only cleaning your windows will be enough, however, you do need to take the curtains off and wash them. If you leave your curtains dusty they may transfer dirt and dust on to the windows you have just cleaned and defeat the purpose of the cleaning. Take the curtains off and put them in the washing machine. Use the time the curtains are in the wash to clean your windows. Hang your curtains out to dry as soon as they are done being washed, do not let them sit in the washing machine. If you do so you do not need to iron them.
4.Clean your carpets.
If you regularly hoover your carpets you will eliminate about 80% of the dirt that is trapped in the carpet fibres. However, to remove the remaining 20% you will need to pay some extra attention to your carpets. If you do not plan on getting your carpets professionally steam cleaned you can wipe them with a damp towel to remove any hairs that are trapped in the carpet and refresh their colour. You can also sprinkle some baking soda on your carpet and hoover it 20 minutes after, by doing this you will protect the colour of your carpet and eliminate unpleasant scents.
5.Pay special attention to the bathroom cabinets

.
We tend to store makeup or other cosmetics in there often past their best use-by date. Throw everything you have probably not used in months or things you are not sure are still good to use away. It is best to purchase a new product and not risk getting a rash.

6.Clean the fridge.


After defrosting it clean the fridge and freezer using a cotton cloth. Pay special attention to the corners, this is where mildew tends to form. To give your fridge a pleasant smell you can pour some vanilla essence on a little bit of cotton and place it in the fridge.
7.New season new look.


Rearrange the layout of your living or dining room to give it a newer fresher look. In the winter furniture is grouped closer together to give a warmer cosier feel. When spring comes you can move your furniture around so that the room can look more spacious.


A full spring cleaning of your home may take you a couple of days. A professional cleaning company can fully deeply clean your home in a matter of hours. Professional cleaners can effectively and systematically clean your home by using a few easy to follow tricks you can also make part of your spring cleaning checklist.
We will share a few cleaning rules and cleaning ideas you can follow. These are simple rules you can apply to your cleaning routine that will get you a step closer to refreshing and making your space not only cleaner but also more beautiful.

7 tips you can use to clean like a pro.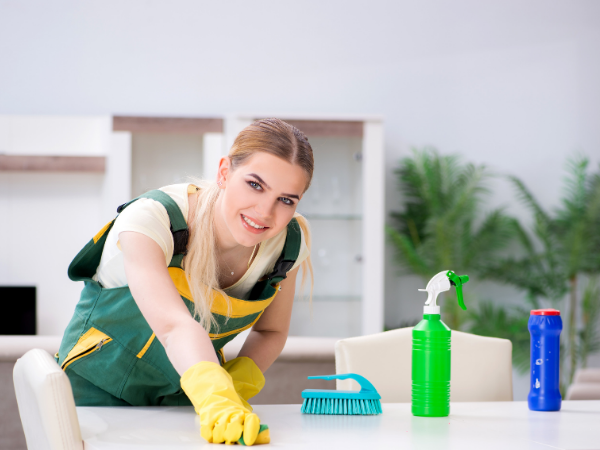 1.When you are wiping dust off surfaces do not spray the surface spray the towel you will use to wipe. If you do so you will clean more effectively and do not need to wipe unnecessary detergent off.
2.Focus your work on a single room so you do not miss any areas. Start from the door and move clockwise through the room. Start from the outside and work your way in following the walls. Go over all shelves and ledges. Do not forget to clean the windows and frames and finish in the centre of the room.
3.Add just a few drops of essential oil on top of your lamp. As soon as the oil heats it will make the whole room smell better.
4.Use a lint roller do remove dust from your light fixtures.
5.If you have a lot of dust vacuum everything. If there is a lot of dust on the inside of your wardrobes and cupboards vacuum it first do not try to wipe it. That will just smear the dust and make it harder to clean.
6. Do not forget to clean the skirting boards. They will collect a lot of dust over time. You should also clean all the little details in your home. Light sockets, switches and plugs in every room have to be wiped.
7.After you are done with one room close the door and move to another. After you have cleaned every room in your home inspect them. If you are happy with the cleaning result leave the door open.

A spring clean is an investment of time and energy. If the process seems challenging to you you can also reach out to a professional cleaning company.