Deep Cleaning everything (including things you do not presume) in your home, one day at a time!




There is only so much time in a day, so many days in a week, with how busy we all are we often ignore given aspects of home cleaning. With our daily home cleaning schedule, you will do a little bit every day and make sure that at the end of the month every single inch of your hose or flat has been cleaned.

Every time we start cleaning our home we either miss a given area or simply run out of time. Confusion can set in. For example, you can start cleaning your windows see a stain on the kitchen cupboard, get distracted and a few seconds later you are cleaning the oven. How did that happen? All of a sudden you seem to be cleaning ten things at once and at the end nothing is cleaned and you are exhausted.

You can, of course, reach out to a reliable professional cleaning company and schedule a regular domestic cleaning service. If, however, you can spare an hour and a little bit of effort you can clean every inch of your home on your own.

If you organize your time, allocate an hour to an hour and a half of your time each day, at the end of the month, your home will be sparkling clean and tidy. Moreover, if you follow our 30-day deep cleaning schedule you would have cleaned every single inch of your home, all furniture and even all of the kitchen appliances. Organization will truly set you free, organizing the limited time you have is half of the battle. We will present a 30-day guide for deep cleaning your home. Do not worry, we are not suggesting that you spend every waking hour of the next 30-days, scrubbing, mopping, vacuuming and polishing every nook and cranny of your home, no, we have divided cleaning tasks into specific, small increments, in such a way by simply allowing for about an hour each day you will completely transform your home. Each of the daily tasks you will have to accomplish will not take more than an hour to an hour and a half, so let's get to it, shall we?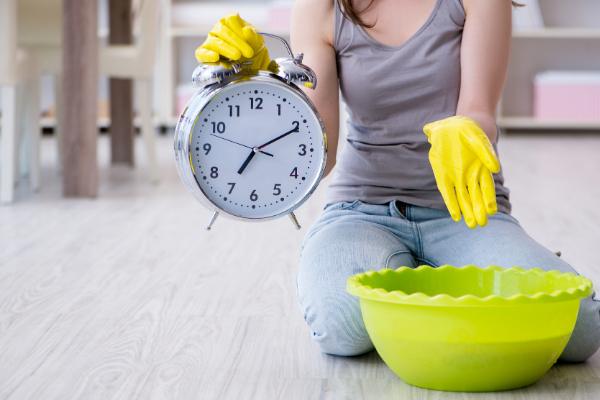 30-Day Deep Cleaning Schedule

Kitchen



Day 1 - Clean the oven, microwave, hob and burners.
Day 2 - Clean all the other small electrical appliances, toaster, food processor, blender, mixer etc.
Day 3 - Deep clean all the kitchen cupboards internally and externally
Day 4 - Clean and organize your spice and condiments drawers, clean your spice rack, all jars, cans, organize your "I am trying to eat healthy I really shouldn't open that cupboard" cupboard and throw away anything that is past its best by date.
Day 5 - Empty, defrost and deeply clean your fridge
Day 6 - Clean and disinfect your kitchen sink
Day 7 - Clean all countertops, worktops and wash the bin
Day 8 - Vacuum and mop your kitchen floors
Bathroom



Day 9 - Have a look at your cosmetic supplies and throw away any empty canisters or any items that are past their expiration date
Day 10 - Clean the tiled walls, the shower, the bathtub or the shower screen
Day 11 - Wash the shower curtain as well as all other small rugs or towels
Day 12 - Clean and disinfect the toilet bowl, the sink in the bathroom, the mirror as well as the floors

Bedroom


Day 13 -

Clean the windows

, wash the drapes and curtains
Day 14 - Clean the wardrobes, cupboards and screens. Anything you do not need goes in the trash
Day 15 - Collect all your linens and put them in the washing machine, clean your mattress
Day 16 - Dust everything - cupboards, lamps, ledges
Day 17 - Vacuum carpeted floors, vacuum and mop hard floors
Living Room




Day 18 - Clean the windows, the blinds, wash the curtains and drapes
Day 19 - Vacuum and clean all your upholstered furniture
Day 20 - Dust all electronics
Day 21 - Have a look at and throw away any unwanted items- newspapers, flyers, letters, magazines any items that have found their way to your home through the month
Day 22 - Clean the lamps
Day 23 - Dust and clean all upholstered furniture
Day 26 - Organize and clean your desk, if you, as most of us are, are working from home do not forget to clean your office chair as well
Other



Day 27 - Clean the washing machine and dryer
Day 28 - Clean the patio area and all lawn furniture
Day 29 - Clean your car (we did say this is an exhaustive deep cleaning list after all)
Day 30 - Clean all of your children's toys

That's it, everything, literally everything is clean. We do understand that this looks like a lot of work, however, as soon as Day 31 comes and you have a look at your home and know that every inch of it has been taken care of and is sparkling that work will be worthwhile.

If this does seem like too much of a challenge or if you simply do not have enough time you can always schedule a professional domestic cleaning service with a reliable cleaning company. Scheduling a cleaning service regularly means that you will not have to be preoccupied with housework and can spend that hour that we recommend you allocate for cleaning with your family and loved ones.

Manchester House Cleaning Services.